As part of the startup Interview series, we are going to interview Mr. Fedor Erashev from WorkoutMe, a social fitness app that can easily and seamlessly build a new habit that will help people believe in themselves and channel their energy into creating a happier future.
Fedor, thanks for taking the time to catch up with us. Can you briefly outline the company's story? What is WorkoutMe's key goal? Who are the founders, and how did it all become what it is today?
I was doing push-ups at home the other day. It crossed my mind I was slacking off, doing fewer reps than I could actually manage. Then I noticed my girlfriend watching me work out, and this prompted me to start putting in my very best effort. 🙂
From there on, our project's main goal is to motivate every one of our users to work out daily. In the long run, even one minute spent working out every day can help build a solid habit of physical exercise.
We believe that health is a lifelong commitment. Even a brief daily workout routine will yield significant cumulative results if you actually stick to it for a few years, as you'll get into better form and improve your quality of life. Rapid technological change and the prevalence of a sedentary lifestyle aren't exactly helping our society to get enough exercise. Only 20% of those living in developed countries meet WHO's guidelines on physical activity amounts.
"We want 1 billion people worldwide to start working out daily."
I spent a whole year networking relentlessly with people in the industry to build the perfect founding team. I was lucky enough to meet such future co-founders. Each of the 4 founders is a full-stack professional in their field, with working experience in dating, games, social media, wellness, and large tech companies. Paul, our CPO & CMO, handles our marketing and product. Artem, the CDO, is working on the product's UX & UI, art, and ads design. Stan, our CTO, leads product development and all things tech. And I'm Fedor, the CEO responsible for business, fundraising, and operational matters. What's most important is that we've established deep friendships among ourselves and our families. We love the product we're working on and those we're working with.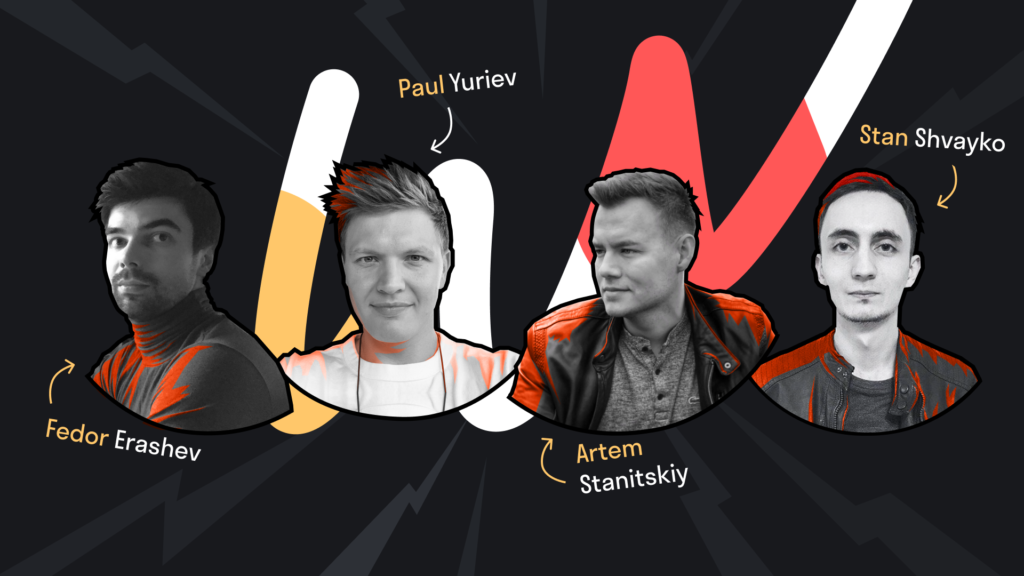 What kind of products and services does your company offer?
We've built a mobile app that bridges fitness, social psychology, and gaming. Our target audience is sports newcomers, which is the largest group on the market looking for fitness solutions.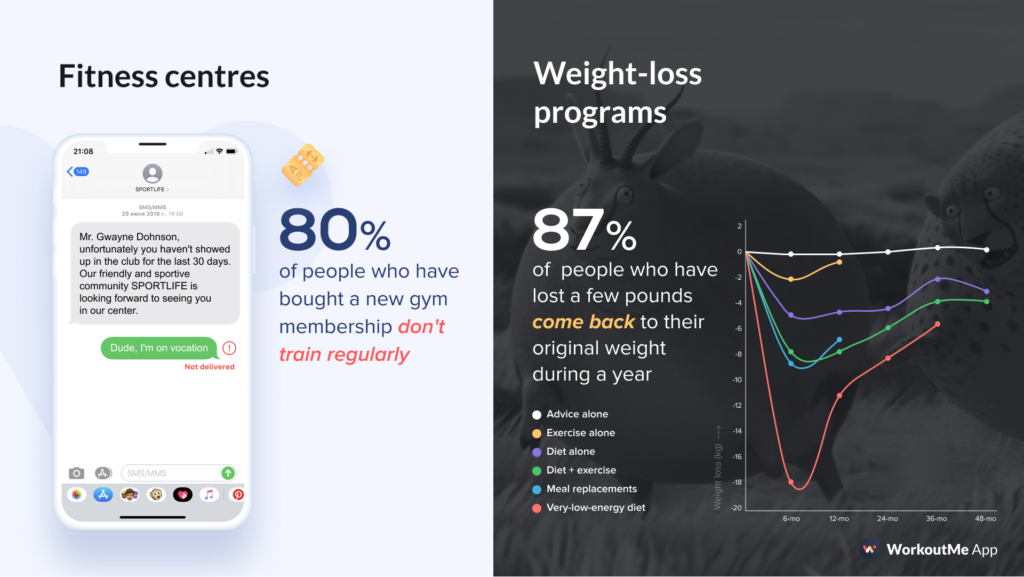 Their key problem is that they lack intrinsic motivation to exercise regularly. They also have no role model around who'd help them stick to their workout routine. That's where we step in. We provide our customers with extrinsic motivation to start exercising, social encouragement to continue, and easy-to-follow micro workouts to bring them both joy and long-term results.
What's the latest progress in the project, and what are you focusing on right now?
Over 2021, we focused on product metrics to improve the ways we engage and retain users in workouts. We achieved fantastic results by the end of 2021, with 55% of the new users doing their first workout on the first day after installing the app. We reached D1 retention of 46% to 50%, which is higher than that of many fitness apps on the US mobile market. The top 10% of apps in this segment have D1 of 25%, which is two times lower than ours. The D7 retention rate is around 30%, whereas the market average is about 6%.
(Here's a report: https://support.appsflyer.com/hc/en-us/articles/207040476-Retention-report#viewing-the-retention-report.)
The app's growing organically, with the usage and time spent metrics showing 3x growth. We're continuously seeing more user doodles, likes, and workouts. While we keep growing our retention metrics, we're now also steadily weaving in our business model and monetization.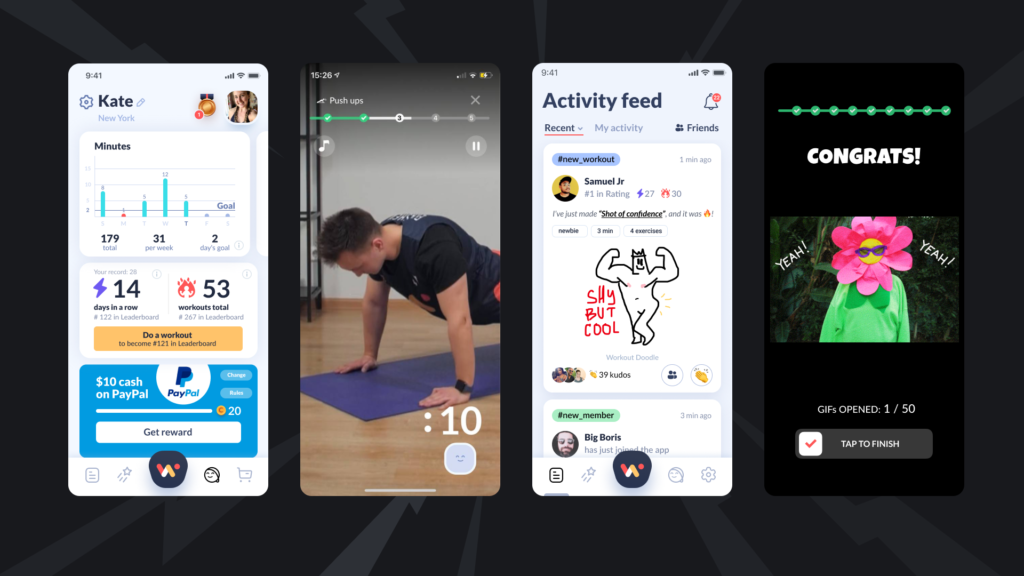 What pain of your customers are you helping solve? What is your company offering, and what kind of customers and partners are you looking for?
Our target audience is sports newcomers. Maybe they aren't motivated enough to start working out, lack motivation to continue, or both. Maybe they have no peer support or anyone they could inspire with their brand new fitness routine. They still ponder about working out and are looking for a solution—it's expected that in 2022, fitness apps will be downloaded more than 100 million times in the US.
The key problem we tackle for our audience is bridging the gap between thinking of working out and actually doing it. We give them the motivation they need to actually get up and kick-start exercising. From there on, we help them to ease into their new routine and keep going for as long as it takes them to build a habit. We're always open to brand collaborations and partnerships to expand our marketplace with new goods, services, and _ offerings that'll motivate our users to work out. With this, our partners can garner an audience of highly motivated people who exercise daily and actively use our marketplace. Just message us if you're interested in partnering with us. We'd also be excited to collaborate with universities and research laboratories in human behavior, mental health, and physical exercise's effects on health in the long term. We're open to dialogue with VCs who see our work resonating with them and are interested in our prospective results.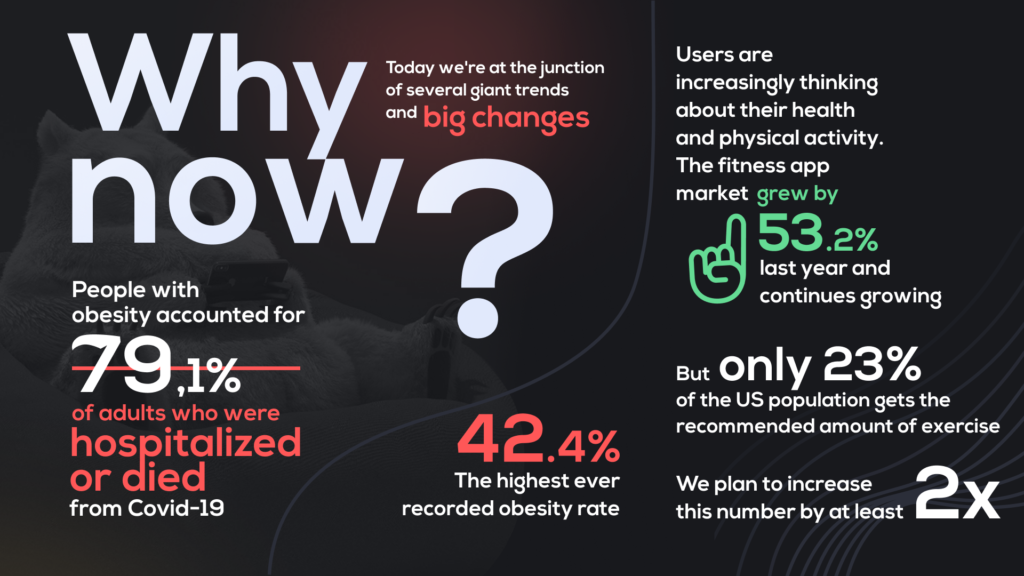 What differentiates WorkoutMe from its competitors?
The key difference lies in our product vision and the approach we take to solve our users' problems as defined above. I'll elaborate: 80% of fitness apps try to sell you "Lose 20 kilograms in 2 weeks" routines or teach you how to unearth perfect abs in just a month. This approach does nothing to help build a long-standing habit and achieve actual *long-term results*, though. People see the fit body featured in advertising and pay for the subscription hoping it'll help them look the same—that's a purely emotional purchase. Eventually, they run out of motivation and willpower in a week and leave the product after seeing no quick results.
We introduce an entirely different approach.
Our workouts are free, which helps users interact and get better at workouts together. Our startup is also the only one granting rewards for guided bodyweight workouts, while other apps only reward steps walked and activities you can track with computer vision. At the heart of our business model lies the firm belief that for your product to grow continuously, you need to build one that's used regularly and in the long haul. To achieve that, we avoid handing out false promises and strive to steer the user's focus towards exercising regularly and building a habit gradually over time; this helps us grow retention and reduce churn. Since traffic gets 30% pricier each year, the model mustn't be entirely dependent on performance marketing. We focus on product-led growth, grow our organic traffic share, and implement viral features.
Do you use AI technology in your product? How does it work for you?
No. We are currently building machine learning approach to analyse user behaviour for better understanding their We see significant potential in AI, ML, and computer vision tech. This year, we're planning to employ AI-powered tech to improve workout supervision. The AI will be watching our users work out, correcting their movements, and gamifying the workout process with augmented reality. We'll also use AI to detect possible fraud and rules of conduct violations.
Do you have any projects related to COVID-19 research? If so, can you explain how your product is contributing to a global fight against coronavirus?
People with obesity accounted for 79,1% of adults who were hospitalized or died of Covid-19. Our product vision is that physical exercise is an old new medicine, and we believe that health—which demands physical exercise—is a lifelong commitment. We contribute to the ongoing battle for longevity and against Covid-19, obesity, and other diseases by building products that imbue our customers with a lifelong love for fitness.
What is your business model, and how are you planning to get early customers onboard? Have you already raised money for your operations and building the platform?
We're planning to monetize freemium users with brand collaborations, and premium customers with subscriptions. Freemium users can access all workouts available on the platform and earn our virtual currency while exercising. To spend the currency in our marketplace, though, the user must first subscribe. We're also affiliate partners for some product categories and receive affiliate commissions whenever users spend our virtual currency on goods and services.
We bootstrapped the product to life in 2020. In 2021, once the app was ready and garnered initial traction, we raised $150k from tech founders and achieved the results I've discussed. We're raising the next round of funding right now to reach the MRR milestones set for this year, so we'll be happy to get in touch with VCs and angels to share more details on our project.
What milestones have you had in fundraising, and where are you now?
Right now, we're looking for $500k investments to confirm our business model is viable and prepare our product for the Seed stage. At the moment of this interview in January, we've already raised $80k and are negotiating a few soft commitments.
What was it like growing your team? What were the challenges and surprises you encountered? What tips do you have for building a solid team?
We enjoy working as a close-knit small team, but we're also growing organically by hiring on a per-niche basis. The current market is overheated, with startups forced to compete for talent with top tech giants. With this in the background, we've discovered there are quite a few talented professionals who ace their work yet aren't enamored with corporate benefits or overblown wages. These people value working in a laid-back environment, having no bureaucracy weighing them down, and seeing their work have an actual impact on the end product. They can enjoy options grants or fast-paced startup environments; they feel the energy and will give 150% at work. We learned to find and hire such people. This allows us to grow faster while also not overblowing our payroll, which is critically important for an early-stage startup.
We realized that given internet access as well our people network and founders, hard skills are quite easy to teach if the person already has the basics covered. Conversely, soft skills—at least those relating to communication, group dynamics, problem-solving, and creativity—aren't everyone's forte, which is why it's crucial to recognize and hire people who have a certain flair for these. All in all, we prefer the teal management model to other options because it works well for us. We naturally arrived at this approach without even realizing that, and it's proved to be effective and smooth.
What are your company's plans for the future, your major dream in 2022?
We're planning to work on product metrics growth this year, focusing on long-term retention and year-over-year subscriptions. We're expecting to see significant audience growth in spring 2022, reaching more than 50k MAU while maintaining our product metrics. By the end of the year, we're planning to achieve $100k MRR. We'll continue expanding our in-app marketplace—we've recently made it possible to trade our virtual currency to crypto.
We'll also keep growing our community—we want to create long-term value together with our users by issuing NFT collections of digital achievements awarded for continuous workout routines. In the second part of the year, we'll relaunch our Android app and expand our geo-targeting. 70% of our current audience is from the US.
To summarize our interview, I would like to ask your opinion about the future of the HealthTech industry, especially considering the impact of the pandemic and all this economic turbulence.
We believe that quality of life is this century's key value all services and tech will revolve around. There's much more to life quality than money alone, though. It's composed of mental and physical health, work-life balance, and longevity. The defining factor, though, is for how long the person will be able to enjoy their life and take full part in it once they're older. This has never been more relevant than it is now. Jumping on the bandwagon of this megatrend, we want to employ social psychology, tech, game mechanics, and a community-driven approach to make being mindful about one's physical health more accessible to all. Stay safe out there!