As part of the startup Interview series, we are going to interview Mr. Umut Ağyüz from GENZ Biotechnology, a London-headquartered spin-off BioTech company developing novel solutions from in vitro diagnostics to therapeutics.
Umut, thanks for taking the time to catch up with us. Can you briefly outline the company's story? What is Genz's key goal? Who are the founders, and how did it all become what it is today?
Genz is a university spin-off BioTech company developing novel solutions from in vitro diagnostics to therapeutics.
We're addressing the world's pressing health challenges; therefore, we're able to create value for both our patients and our shareholders. As of today, we have received several research grants to develop groundbreaking technologies to defeat challenging public health problems; Genz has CE-IVD molecular & genetic tests, point of care solutions for professional and self-use. Our fundamental goal is to support healthcare professionals and patients in tackling challenging problems as technology leaders in diagnostics. We always aim to be the first to introduce the state of the art technologies into the market.
When I started studying genetic markers of early diagnosis of breast cancer and prognosis as part of my Ph.D. thesis, I visited Harvard Medical School and ETH Zurich to participate in scientific research projects. When I was in the US, I met with Dia Akilli. She is a serial entrepreneur that co-founded and worked in many start-up companies that focused on innovative technologies. We joined our forces to execute our plans by combining our scientific and entrepreneurship knowledge.
We want our product to meet more people in the world. We will introduce our products to more than 30 countries, and we believe that we will create a positive impact on healthcare systems by providing accessible diagnostic solutions.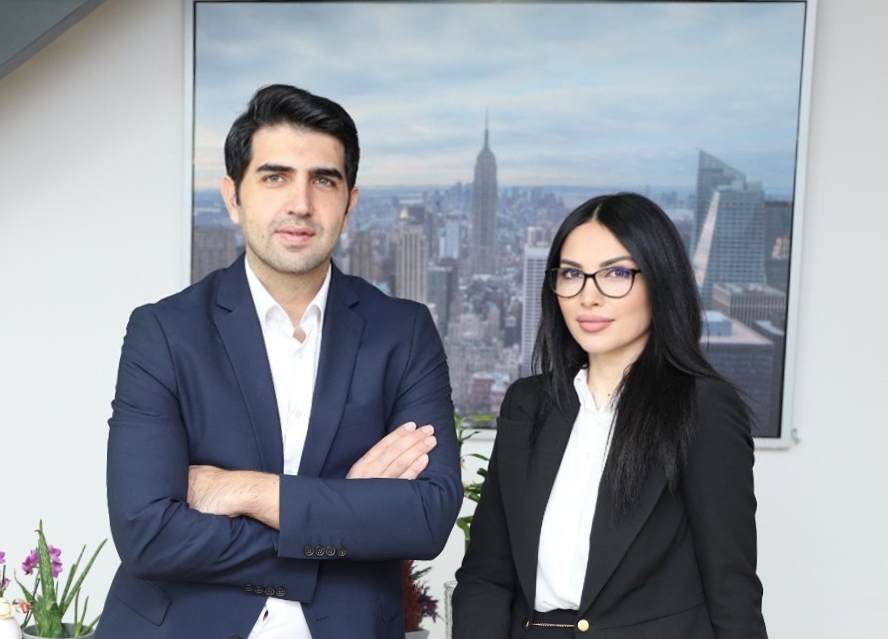 What kind of products and services does your company offer?
We are developing in vitro diagnostic solutions, such as liquid biopsy gender tests, fetal RH screening tests, breast cancer genetic screening tests, Quantitative Antibody ELISA kits, PCR kits, and an ELISA on-chip-based Point of Care testing (POCT) platform. Our POCT system is also offered with a software as a service (SaaS) platform supported by a cloud environment. We will be introducing our wellness testing product for the end-user in the near future.
What's the latest progress in the project, and what are you focusing on right now?
During the pandemic, we focused on developing a COVID-19 POC testing solution named GENZPRO, and we implemented a gold standard laboratory technique, ELISA, into a single-use microfluidic system.

So far, we have completed the R&D phase of our POCT device, and we conducted two different validation studies at universities in Turkey. We launched our POCT Platform and Quantitative COVID-19 anti-RBD IgG Antibody detection Biochips and our COVID-19 Quantitative IgG ELISA test kits for automated ELISA systems. Our COVID-19 anti-RBD IgG Antibody detection test shows prior infection of COVID-19 and immunization level after vaccination.

Currently, we are focused on broadening the testing parameters of our POC device, as well as establishing strong connections with vendors and distributors in the EU, to expand our business. Owing to the versatility of our product, we will be able to build many other parameters such as cardiac markers, HIV, HPV, etc. using the same setup. We will develop the home-use version of our POCT systems and AI health assistant.
What pain of your customers are you helping solve? What is your company offering, and what kind of customers and partners are you looking for?
Currently, the diagnostics process is costly, complex and it requires expensive infrastructure as well as well-trained and experienced personnel. For example, ELISA assays can result in false positives according to non-specific binding problems and take 2.5 hours even for one patient. Due to a long time, labor force, and high costs, small labs can outsource the ELISA service and send the samples to a central lab with macro ELISA systems. These systems are fully automated, reducing labor work and unit test costs (~2.5$-5$) and decreasing operator handling errors significantly. But such machinery costs around $0.5M to $1M, which is not an affordable solution for small-scale centers. Automated systems minimize human errors (~10%) and operational costs per unit test. However, small-scale centers lack qualified labor work, infrastructure, and accreditations. Conventional ELISA reagents can be degraded in 2 hours at room temperature. This is another widely seen error at laboratories, and it is a waste of sources whereas it might cause false-positive results and unexpected consequences.
The main problem of these potential customers is finding accurate (unlike quick, rapid lateral flow tests) and affordable testing solutions. And that's exactly what we built; GENZPRO ELISA on-a-chip POCT Platform offers lab-accurate, affordable testing near the patient, where it matters the most.
We are keen to work with partners experiencing the painful diagnostics process such as laboratories, diagnostic centers, clinics, pharmacies, or distributors that are supplying them.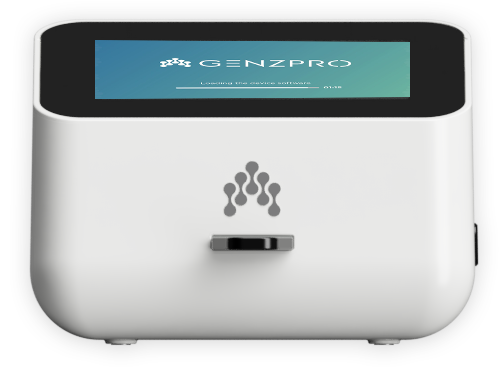 What differentiates Genz Biotechnology from its competitors?
We are putting time and effort into R&D to give birth to ground-breaking innovations. We aim to change the diagnostics in a way that will be beneficial for both patients and healthcare professionals.

Compared with well-known ELISA assays, GENZPRO's patent-pending technology correlated with 99% of results, offering similar detection sensitivity (99%). It is validated that GENZPRO is precise, but it is also fast as rapid card tests. While our solution requires a lower quantity of patient samples and reagents, it also enables healthcare professionals to carry the laboratory they need, wherever they go. This technology also eliminates both the incubation times in ELISA and the false-positive results from non-specific protein binding. GENZPRO testing protocol is also optimized to eliminate user handling errors. Also, our testing chips and solutions are durable at room temperature, which makes the diagnostics process suitable for near the patient testing.

Our goal is to penetrate the market with this innovation, keeping the cost of ownership low and accessible for the regions needing accurate and fast diagnostics.
Do you use AI technology in your product? How does it work for you?
As a part of our decision-making process, we utilize artificial intelligence (AI) to have the most sensitive results. As a part of our decision-making process, we utilize AI to have the most sensitive results. We have different modules to support home care and the healthcare professionals for telehealth. Our AI software combines the data generated by other platforms. The patient tracking module gives personalized molecular test suggestions under the online consultancy of a healthcare professional. The online doctor consultation module helps the user get a second opinion, better understand the test results, and reduce confusion.
Do you have any projects related to COVID-19 research? If so, can you explain how your product is contributing to a global fight against coronavirus?
We have developed diagnostic kits and platforms for the quantitative detection of COVID-19 antibodies. Also, we built Smart COVID-19 PCR tests that can capture all existing variants. Our products will enhance the diagnostic procedure, enabling healthcare professionals to collect accurate data within minutes, ensuring improved health outcomes for the populations. We believe that antibody levels of individuals with critical health conditions should be determined before getting 3rd or 4th booster shots of vaccines to see if they need it or not.
What is your business model, and how are you planning to get early customers onboard? Have you already raised money for your operations and building the platform?
We built a business model based on the B2B approach by providing our products via Distributors and Vendor Chains. Our target market is the medical industry which includes hospitals, clinics, and universities.
We have already established connections with Distributors within Eastern Europe and MENA Region. We are in the registration phase of our products in EU countries, which will enable us to expand our business globally. We have raised our seed funding and now, we are getting prepared for Series A rounds. We have completed the R&D process of GENZPRO POC Diagnostic Platform, so we will use our funds for market penetration and expansion from now on.
What milestones have you had in fundraising, and where are you now?
We raised seed rounds and successfully built our products. Currently, we are entering the global markets with rapid commercialization and getting prepared for Series A fundraising. Our existing investors are willing to support us in the following funding rounds. We will expand our product range, penetrate new markets, complete full compliance with EU and FDA standards, and strengthen our technology to increase our competitive advantage according to our growth strategy.
What are your company's plans for the future, your major dream in 2022?
We want to start the FDA process for our solutions to enter the US region. Broadening our distribution areas will accelerate our expansion to the global markets.

Our long-term goals consist of supplying the GENZPRO devices as a leader in the diagnostics market, enhancing diagnostic methods with innovative solutions and providing better healthcare for populations around the world. When the mobility of the solution is taken into account, this will allow mass testing in many regions that lacking laboratory access.

Our ultimate wish is to have a healthier year so that we can protect our populations against COVID-19 infections, and hopefully, we will be contributing to the healthcare system by making the POC Diagnostics affordable, accessible, and accurate to make this wish come true.
To summarize our interview, I would like to ask your opinion about the future of the HealthTech industry, especially considering the impact of the pandemic and all this economic turbulence.
Many things changed in the pandemic, including the way healthcare is delivered. Remote healthcare became popular, and technologies were developed that enable telemedicine. It looks like we will see more technologies supporting point-of-care patient tracking and diagnostic tools in the future. People will not need to visit a doctor for simple routine tests. Mobile, stand-alone diagnostic instruments will analyze our samples and send the results directly for the physician's opinion. That will definitely increase the savings in medical care.