As part of the startup Interview series, we are going to interview Dr. Mohamed Warda from CoatConnect, the first online hub for healthcare professional, educational, and business opportunities.
Mohamed, thanks for taking the time to catch up with us. Can you briefly outline the company's story? What is CoatConnect's key goal? Who are the founders, and how did it all become what it is today?
CoatConnect is the first Online Hub for Healthcare Professionals & Educational Opportunities either online or offline i.e. Specialized Courses, Conferences, Exams, Jobs & much more!
A multi-sided marketplace that gives all Healthcare Professionals the chance to either showcase their educational opportunities, from courses to conferences, jobs, and hands-on training or easily find and apply to relevant educational or professional opportunities. The core of the company is presented by Mohamed Warda (CEO and co-founder) and Dani Labban (CMO).
The CoatConnect product was designed with a vision of a marketplace that offers services and products without offline friction (we don't sell physical products). We are mainly matching those who offer with those who seek, either for registrations for educational opportunities and trainings or jobs, internships, and scholarships. So, entering a new market for CoatConnect is much less hustle than it is with Amazon (for example).
We piloted in Egypt in 2020 and expanded to the Gulf region in 2021. However, after aggregating medical conferences and trainings from all over the internet to make it easier for the global healthcare workforce, we found that 60% of the traffic is coming from the US & the most interesting opportunities are usually located in US, Canada & Europe, and healthcare professionals from all over the world are searching for it and can't find an easy way to locate, register and pay for global opportunities.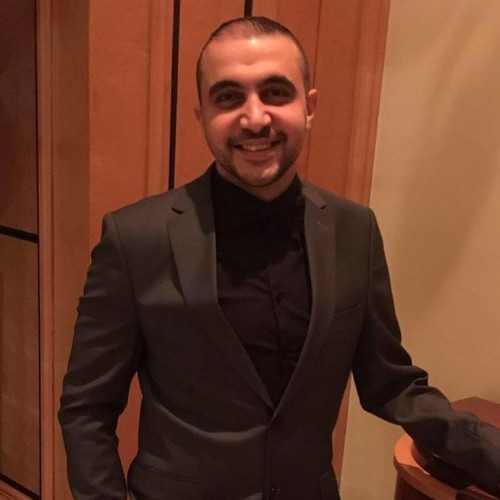 What kind of products and services does your company offer?
One-Stop-Shop for Healthcare Professionals to book medical and healthcare professional events, or find jobs, internships, scholarships, or any other opportunities all over the world according to their Profession, Specialty, Subspecialty, Medical Degree & Location. Technically CoatConnect is a Multi-sided Multi-seller Marketplace with HC Professionals on one side & Specialized opportunities from verified HC institutions on the other side.
What's the latest progress in the project, and what are you focusing on right now?
+5000 Registered users…
+160 providers…
+4000 attendees matched with opportunities…
+15000 Listed Opportunities…
We are targeting a 10x growth to our registered customer base to reach 50,000 HCP by the end of 2022 after introducing the career opportunities marketplace in Q1 2022.
We are working to increase our monthly GMV to 50,000 USD by Q2 2022 to reach 100,000 USD by Q4 2022 with +5,000 annual paid registrations
Building the networking module by Q3 2022 after securing a 2M USD seed round to accelerate our growth & reach 300,000 HCPs after 18 months with +5M USD annual GMV.
What pain of your customers are you helping solve? What is your company offering, and what kind of customers and partners are you looking for?
Healthcare & Medical Practitioners are working in a very specialized industry. It takes a lot of time to find a relevant professional, educational, or business opportunity according to their Profession, Specialty, Subspecialty & Medical Degree. Whether if it's a course, conference, job, internship, or scholarship, the problem is always the same with every healthcare professional opportunity, everywhere around the world. It takes light years to find or reach any of them.
We are offering One-Stop-Shop for Healthcare Professionals to book medical and healthcare professional events or find jobs, internships, scholarships, or any other opportunities all over the world according to their Profession, Specialty, Subspecialty, Medical Degree, and Location. It's relevant for doctors, dentists, pharmacists, other HCPs, and different workers in the healthcare industry.
Customer Segments:
Suppliers of professional products & educational services from various aspects & specialties of the Healthcare industry (Jobs, Courses, Workshops, Conferences & other professional Events, in addition to professional healthcare products) – Pharmaceutical Companies.
Equipment & Material Suppliers & Manufacturers.
Research & Educational Institutes.
Administration and Licensing Institutes.
Medical Schools.
What differentiates CoatConnect from its competitors?
Being a tailor-made solution for health professionals is our most important innovation. We are not the first platform for courses, events, jobs, or other professional opportunities, but we are the first in the healthcare industry. We are respecting the unique nature of the highly specialized industry and the different needs of the health workforce. So, the service isn't the innovation, but the product and execution are.
We have direct competition, however, not with the whole big idea of CoatConnect, but with certain phases like our first phase for educational opportunities (Course & Events). There are some old portals doing a similar thing, but only limited to events (the big ones like conferences & expos), they are only medical (not targeting other HC specialties), and most of them don't include payments (only redirection & ads model). They are old websites that are using very complicated and old designs, UI/UX, and are not optimized for mobile experiences. None of them have a presence in the middle east.
Do you use AI technology in your product? How does it work for you?
Not yet but we are willing to implement AI technology.
Do you have any projects related to COVID-19 research? If so, can you explain how your product is contributing to a global fight against coronavirus?
COVID-19 related articles were published on the CoatConnect blog.
What is your business model, and how are you planning to get early customers onboard? Have you already raised money for your operations and building the platform?
B2B2C | Multi-sided Marketplace
-Commissions (15%)
-Listing fees (10-25$)
-Ads & Sponsored listings after growing the customer & user base
-Subscriptions (100-250$)
We have a typical Egg Chicken challenge here. Offering a neat, properly customized experience & highly innovative & convenient service is our only chance to achieve the required momentum.
Go To Market Strategy:
A pure B2B+B2C business plan where we are partnering with verified healthcare institutions who provide opportunities to health professionals and help them market & sell their offerings online to their exact target audience, by profession, specialty, degree & location. A penetration strategy, we don't take fees from our providers to list their events on CoatConnect, only commission (15%) from successful transactions & we are free for free events. We are also providing premium listings, sponsoring & advertisement packages. After building our user base, a subscription model &/or listing fees might be expected.
Sales & Marketing Strategy:
As a multi-sided marketplace, we have different strategies for each side of the platform. Buyers (HCPs) are mainly targeted through online and digital marketing strategies; Online Marketing, Email Marketing, Social Media Marketing, SEO, SEM, Content Marketing, etc.
Sellers (Providers) are mainly targeted through offline marketing solutions, i.e. Direct Sales, Event Marketing by showcasing our services/platform at the same events booked through it.
What milestones have you had in fundraising, and where are you now?
We are still bootstrapped with a few thousand hundred dollars from founders, family, friends, and accelerators that we joined in NYC (Starta Ventures) or Egypt (Falak Startups).
We are preparing for our first institutional fund soon to accelerate our growth! Be prepared 😉
What was it like growing your team? What were the challenges and surprises you encountered? What tips do you have for building a solid team?
It's a pretty great challenge. Finding the right calibers is definitely startups' biggest challenge, especially in the early stages with limited resources.
My team-building tip is to hire for attitude, not just skills. Skills can always be taught. Providing encouraging working circumstances & office politics is mandatory to attract a great team capable of disrupting industries.
What are your company's plans for the future, your major dream in 2022?
We plan to launch our new "Jobs" product.
To summarize our interview, I would like to ask your opinion about the future of the HealthTech industry, especially considering the impact of the pandemic and all this economic turbulence.
I do believe that HealthTech will have the majority of innovation in the future. Endless possibilities will show up with further development of advanced technologies like blockchain, AR, VR, data science, machine learning, and artificial intelligence.
Can you imagine what medical education and training will look like in an AR/VR heaven?
Healthtech's biggest challenge has always been EMRs. Theoretically, blockchain is the answer. It solves the main challenges when it comes to centralization, data privacy, ownership, security, and a lot more. Also, imagine if we have a global EMR blockchain network and how will such data help us to understand diseases more and create better treatment & management protocols.
The future of HealthTech is gonna be really interesting, believe me. Regarding the pandemic, I can see that it fosters adopting technology and virtual experiences. In addition to directing the world's eyes to the importance of healthcare & innovation.