As part of the startup Interview series, we are going to interview Mrs. Irina Paraschiv from Acertivo, a Romanian startup providing an evidence-based mental healthcare platform for tech companies.
Irina, thanks for taking the time to catch up with us. Can you briefly outline the company's story, what is Acertivo's key goal? Who are the founders and how it all became what it is today?
Hi Anastasia, thank you for this opportunity.
The work we do plays a big role in our life. It represents half of our awake time and it even defines our identity to a point. But at the same time, 1 in 2 employees name the job as the biggest stressor in their lives. And this happens due to the changing nature of jobs in the 21st century and the accelerated pace we see in workplaces all over the world. This places quite a lot of pressure on employees' well-being.
Our mission at Acertivo is to enable people to acquire the emotional skills that allow them to avoid mental health issues like anxiety or burnout and work at ease in circumstances that require agility and personal flexibility. But this is something that can't be achieved at scale with current models, so that's why we're building a new blend of mental health care.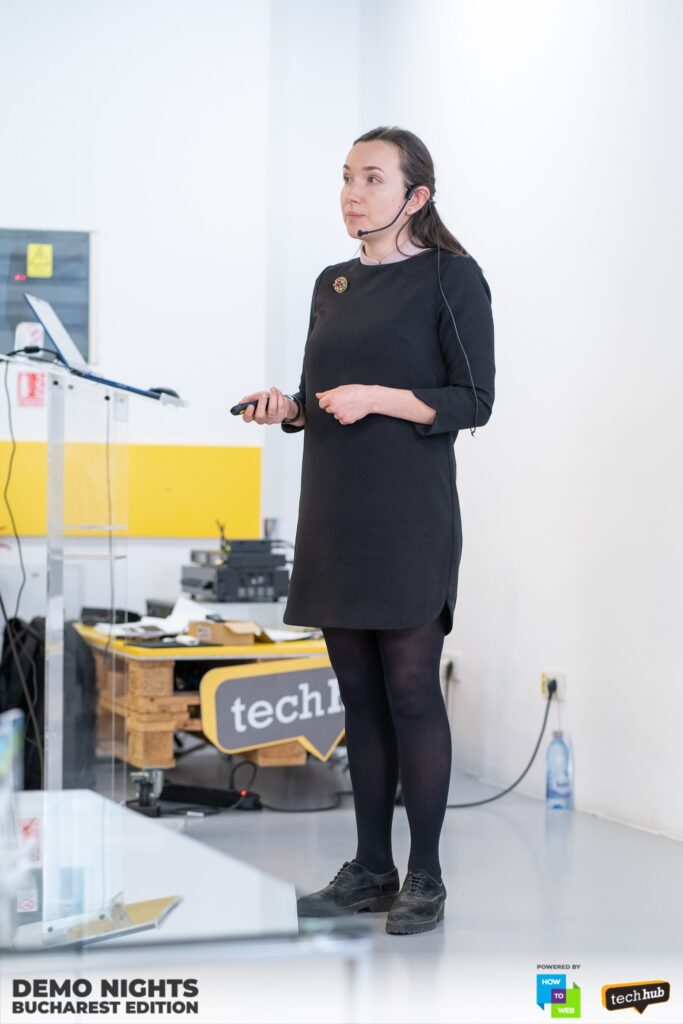 I've been involved with mental health most of my professional career, but the idea of a low-touch therapy platform first came to light during my MBA, where it was polished for the Entrepreneurship class. After the program, the co-founding team was joined by Lucian on the software engineering part and by Toni on business development.
Acertivo started as a project for the Entrepreneurship class at MSM Romania / BISM EMBA. We had to come up with a business plan and a pitch to present as our final exam in front of real-life investors. I had the idea of creating a platform for mental health for the workplace, but at that point, it was just a thought, with nothing to back it up.
So, I talked to my EMBA team for the class, I pitched the idea and we ended up pitching it for the final exam. The pitch was quite successful, we were actually invited there to join an accelerator.
After finishing the EMBA I started working with my partner on implementing the idea and we were looking for a tech guy to join our team. This is how we met with Lucian, we pitched the idea to him, and he decided to join us.
Acertivo's big hairy goal is to create awareness on mental health and introduce the concept of early prevention and education in this field. I don't believe that mental health is "invisible". I believe that we are not trained to look for it. You need to meet people where they are in the mental health spectrum and process and this is what Acertivo is trying to do by integrating with the workflow and delivering help when people are most at risk.
In my experience as a therapist for 10 years and implementing Acertivo I found out with great surprise that the reason people don't address mental health in the workplace is not the stigma (although this plays a role), but the fact that they don't have the vocabulary to talk about it and don't know how to spot the mental health critical points.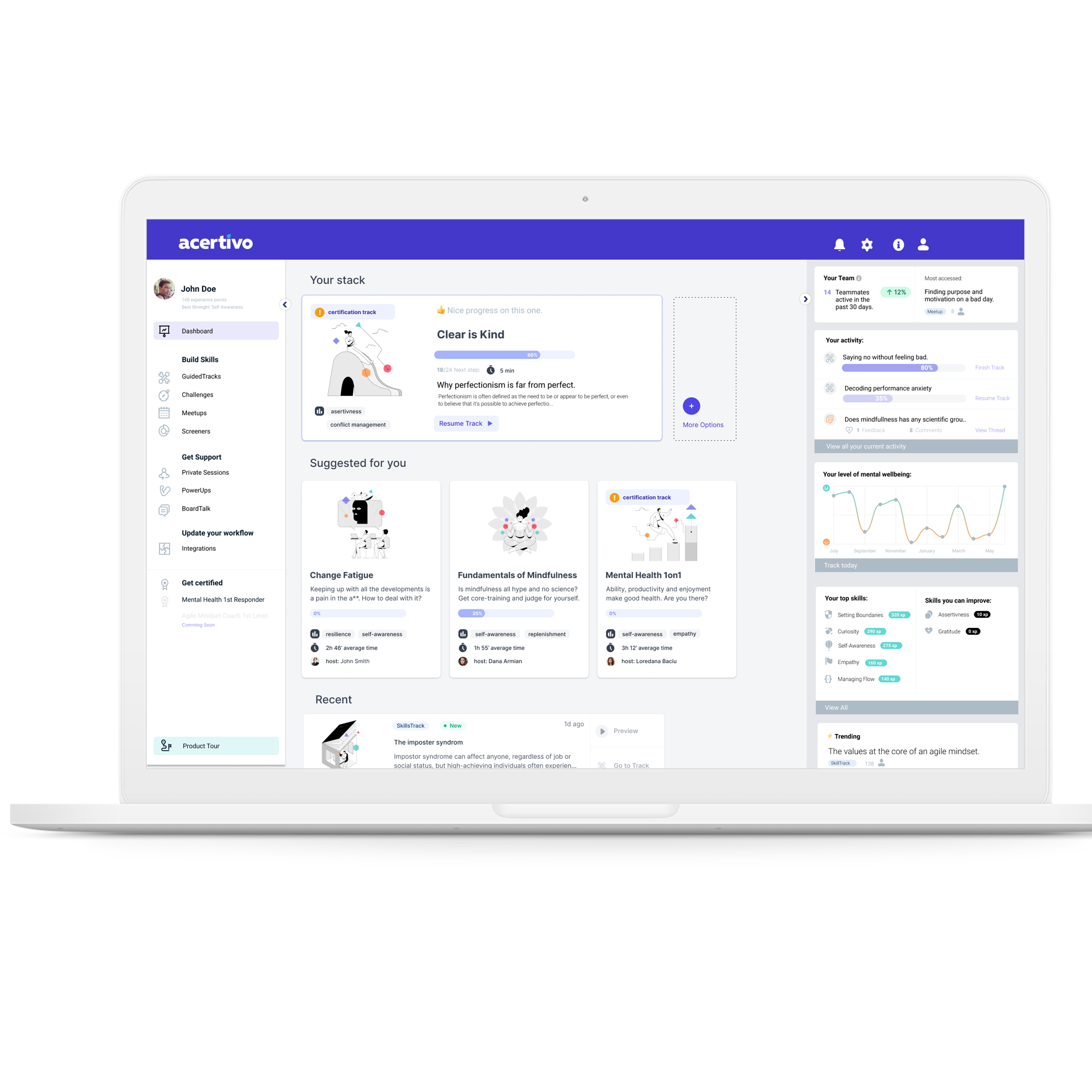 What kind of products and services does your company offer?
Acertivo is a mental health platform for mental health in tech teams. What we currently have on the platform are:
1. Weekly meet-ups – group meetings where people in the organization discuss a certain topic with a therapist
2. Guided tracks – these are topics on mental health themes with explanations & exercises to up your emotional skills
3. Individual sessions
4. Mindware Express – weekly curated micro topics to keep emotional skills top of your mind.


What's the latest progress in the project, and what are you focusing on right now?
The latest progress is almost finishing the due diligence process for an investment deal and the news that we will get a follow-on investment. We are now focusing on bringing in new members to the team so that we can speed up the process.
Wow! Congratulations! What pain of your customers are you helping solve? What is your company's offering and what kind of customers and partners are you looking for?
Mental health has been a hot topic in organizations worldwide since before the pandemic. Companies were starting to see rises in absenteeism, turnover, and presenteeism (being in the office but unable to do your work efficiently). Since 2020 hit, the need became urgent as more workers started to develop mental health issues related to the COVID -19 situation. Now, as the "new era" as it is called, begins, companies are looking for solid solutions to address mental health issues and to create a resilient and agile workforce.
We are targeting tech companies, not only because they are the rising stars in the workplace, but also because they see most of the problems. Recent studies have shown that people in tech are 50% more likely to suffer from a mental health problem. In tech companies, the most common cause of personnel turnover is mental health-related problems, such as burnout, anxiety, interpersonal conflict, and so on.
What we are offering is an integrated solution of self-paced guided tracks, individualized support, social support, and de-stigmatization through the meet-ups. The most important feature that we are offering is the integration of Acertivo into the workflow so that we can reach people when they need help the most.
What differentiates Acertivo from its competitors?
The most important thing that differentiates us is integration in the workplace. From our interviews, my experience as a therapist, and our original insight we observed that the most important times when people consume our product is when they are in between projects – that is why we are integrating Acertivo with other work platforms that employees in tech use so that we can assess the situation and intervene at the right time.
Do you use AI technology in your product? How does it work for you?
AI is a crucial component of the low-touch therapy model that we're bringing into the mental health space. Still, we don't believe AI alone can be the solution. At least not for the next couple of years. Our plan is to deploy machine learning in order to automate and customize the workflows users go through in the platform and enable specialists to provide individual assistance to x10 more users than through traditional psychotherapy sessions.
Do you have any projects related to COVID-19 research? If so, can you explain how your product is contributing to a global fight against coronavirus?
Interestingly, we pre-launched Acertivo as a COVID-19 self-paced intervention track, before launching the version for the companies. At the moment we are offering Mental Health 1st AID workshops that address the changes that COVID -19 crisis has brought along.
What is your business model and how are you planning to get early customers onboard? Have you already raised money for your operations and building the platform?
Acertivo is a B2B SaaS. We are offering Acertivo as a monthly subscription plan per employee. We have raised a pre-seed round that will enable us to grow the team and accelerate the platform.
We are working with our first client already, who reached us first, being in our target group and looking for mental health solutions for his company. We have some strong leads and we are now working to release a new version by fall this year.
What milestones have you had in fundraising and where are you now?
I think that the most important milestone was when somebody showed interest in funding Acertivo – this was a week after we presented the pitch in public. This was really satisfying especially because we had nothing but a business plan. The second milestone was when somebody put a price tag on our project, thus evaluating our work up to that point. It happened shortly after we launched and after we had been networking with the investment ecosystem in Romania. And of course, you can never forget your first investment – this is where we are now. We are just finishing the due diligence process for our first round.
What was it like growing your team? What are the challenges and surprises you encountered? What tips do you have for building a solid team?
We are now building our core team. So, we are still in the process of discovering surprises and challenges.
I think one of the most important questions that founders need to ask is what type of involvement/people do you want in your team? Do you need hired hands, or do you want to have like-minded people who can share your vision and embrace the uncertainty? There is nothing wrong with either answer, but I think that this differentiation will help you get the most of the collaboration.
It was both exciting and stressful (no wonder sometimes they are the same thing) to add a technical founder to the team and I believe that it was the first surprise – to discover people who have the same passion for human development and hands-on work.
Now that we are defining and gathering our team, we are pleasantly surprised to find people who, even though they have established careers, still want to be a part of something bigger.
What are your company's plans for the future, your major dream in 2021?
As we have enough validation from our users and our investors that what we've built thus far is on the right path, for 2021 we're focusing on further developing the product. We are excited about the direction, we have a roadmap full of new features and we just want to see them live as soon as possible.
What do you think about the business climate in Romania and in the EU in general?
I believe that the ecosystem is getting richer and richer. There are a number of great start-ups with novel ideas and capable teams that want to make a difference. We have participated in about 4 accelerators since we began and are in contact with start-ups in Romania and the CEE space and we cannot help but see that there is incredible force there.
To summarize our interview I would like to ask your opinion about the future of the HealthTech industry, especially considering the impact of pandemics and all this economic turbulence.
The HealthTech industry has been expanding long before the Pandemic. It was a natural evolution of technology to the lifestyle and the needs that people have right now. Maybe the Pandemic gave it a nudge, especially in places where it would have been a longer adoption lane.
I can speak about the Mental Health tech more, as we are involved in it and what I can say for sure is that in a few years it will be difficult to imagine a world in which access to mental health tech tools didn't exist. It is not only a consequence of the fast-changing medium worldwide, but it is also an answer to bringing emotional agility to people all over the map.