As part of the startup Interview series, we are going to interview Mr. Laurentiu Nicolae from Nutritio, a Romanian startup, an advanced tool that saves nutrition professionals a lot of time and energy through automations.
Laurentiu, thanks for taking the time to catch up with us. Can you briefly outline the company's story, what is Nutritio's key goal? Who are the founders and how it all became what it is today?
We are NutritioApp, a nutrition software for dietitians, nutritionists, and nutrition coaches. We started in 2016 as a result of a conversation that we had with a medical doctor who specialized in diabetes and nutrition diseases. We asked her what software/app she uses to work with her patients and she told me "pen and paper". We thought she didn't know how to search online but we realized there were no good apps in this part of the world so we started to build one.
We built an MVP, put it in front of a dietitian, got feedback, and went through several rounds of improvements until it was ready to use. We then brought more dietitians and nutritionists and got feedback from them.
Considering my background, I am a digital marketer, former web developer. I have more than 12 years of experience in building and growing the online presence of companies in a very personalized way, with a strong focus on clean, non-shady tactics blending together marketing and software development.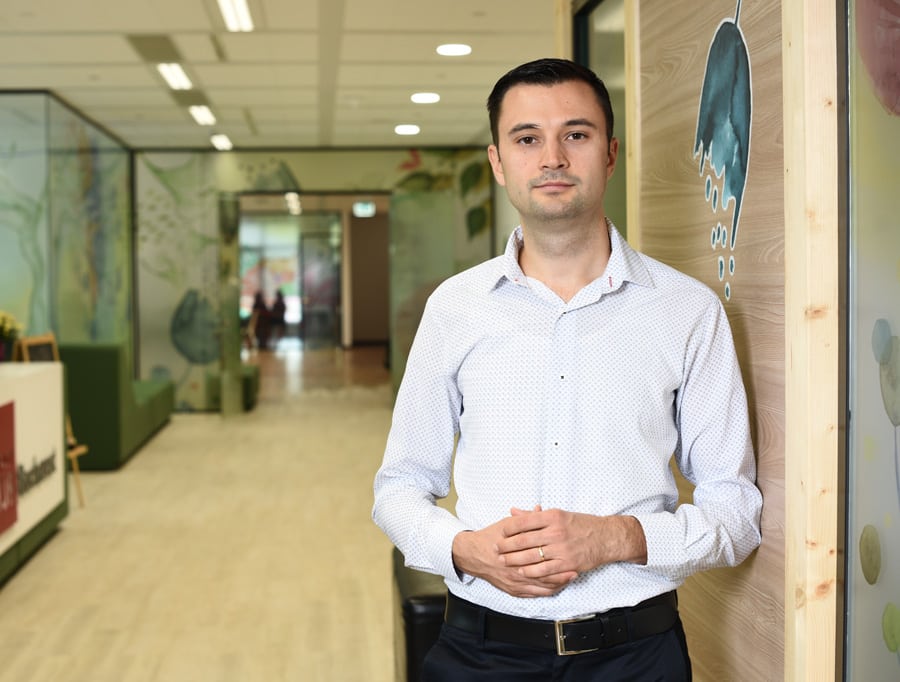 What kind of products and services does your company offer?
We are offering a SaaS that helps the nutrition professionals to work with way more clients in less time by automating most of the boring and time-consuming tasks so that they would be able to help more people and spend the time on more important things, like talking with the clients and keeping them motivated.
Here are some of our features: meal planning, nutrition analysis, recipe management, automated nutrition coaching programs, improved communication through chat and questionnaires, a personalized app for nutrition professionals' clients, and much more.
What's the latest progress in the project, and what are you focusing on right now?
We're improving our onboarding process to empower new nutrition professionals to start working with the app in minutes and we are constantly improving the app in order to automate more processes to save even more time and allow our users to onboard more people and spend less time with a client while keeping the personalization level very high. We're also working on the educational and motivational part because we realized that people usually know what to eat or not eat but the biggest problem that's holding them back is the lack of motivation and emotional support.
What pain of your customers are you helping solve? What is your company's offering and what kind of customers and partners are you looking for?
Our ideal customers are the dietitians, nutritionists, health coaches, and nutrition clinics that would like to scale their business. A nutrition professional can work with a very limited number of people per day if no tool is used (usually 5-10 people). We are helping them to be able to scale that number to 50 – 100 if they are using the automation we provide.
What differentiates Nutritio from its competitors?
There are a few things like automation – we are focusing on coaching/nutrition programs that can be put on autopilot which would allow the nutrition professionals to work once and repeat the same process for all clients that have similar needs and similar profiles. Another area where we differentiate from competitors is the educational and motivational part. We provide the nutrition professionals the tools they need to keep their clients motivated and to encourage them through the entire process until they reach their objective. We are tapping into intuitive eating and lifestyle medicine because we believe that only through a lifestyle change people can really change their lives.
Do you have any projects related to COVID-19 research? If so, can you explain how your product is contributing to a global fight against coronavirus?
Good nutrition and lifestyle are the key parts of someone's ability to fight any disease. Even if we don't deal directly with COVID-19, we believe that through our app we are improving the health and immunity of our nutrition professionals' clients so that they can recover faster from any disease.
What is your business model and how are you planning to get early customers onboard? Have you already raised money for your operations and building the platform?
We are a Software as a Service (SaaS) so we have a monthly subscription where the value depends on the number of active clients of a nutrition professional. At this moment we are fully bootstrapped, we have paying clients and some monthly revenue.
What was it like growing your team? What are the challenges and surprises you encountered? What tips do you have for building a solid team?
We are a small team but we outsource some parts of our development. The challenge is always finding the right people and testing them. My tip for building a solid team is to test people on a project before hiring them. Onboarding a new person takes time and firing takes even more time so don't hire unless you really have to, instead outsource that part if it is possible.
What are your company's plans for the future, your major dream in 2021?
We want to increase our customers base so we are focusing on marketing and onboarding as well as on helping our current clients to onboard more clients because it is a win-win scenario, the more clients they get, the better it is for us.
What do you think about the business climate in Romania and in the EU in general?
We have a few startups in Romania that got funding in the last year so I would say things are getting better day by day. The EU is still behind the US in terms of innovation but we are catching up pretty quickly. There is a lot of room for improvement but we see a lot of interest from investors and from the EU Commission on the Health area.
To summarize our interview I would like to ask your opinion about the future of the HealthTech industry, especially considering the impact of pandemics and all this economic turbulence. 
The pandemic period has shown that regulations and laws can change very quickly during a crisis which was almost impossible before. The progress of telemedicine during this period and the fact that it was allowed at a bigger scale is the best example. Coming from other industries like marketing, I think the HealthTech industry is a pretty conservative one but has a lot of potential for improvement. There are still a lot of regulations that need to change in order to allow more innovation but it is a golden area for us right now to explore new ways and improve what is already working in terms of helping the health of the population and the efficiency of health professionals.