As part of the startup Interview series, we are going to interview Mr. Tareq Mandour from Mazboot, a Cairo-based startup that offers the first Arabic application to help diabetic patients in self-managing their disease for better control of their blood glucose level and hence more productivity, fewer complications, and less healthcare expenditure.
Tareq, thanks for taking the time to catch up with us. Can you briefly outline the company's story? What is Mazboot's key goal? Who are the founders, and how did it all become what it is today?
"Mazboot App" is the first Arabic chronic disease prevention and management platform. Mazboot uses data-driven medical algorithms and cutting-edge AI combined with human coaches and connected devices to provide real-time, personalized, 24/7 support, and counseling to help users make healthier choices and manage their conditions.
We deliver this to patients through quarterly or annual programs (subscriptions), either solely or within comprehensive disease care, or prevention programs that involve healthcare providers implementing smart communication channels with a referral system that links between patients and healthcare providers.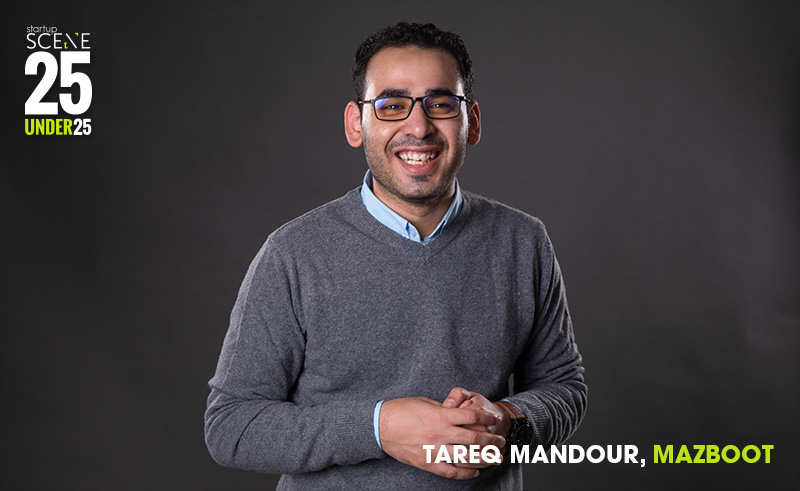 What kind of products and services does your company offer?
We are applying a behavioral intervention technology (BIT) model for chronic disease management. Our data-driven approach starts with collecting medical and behavioral data through different tools; patients' entries, smartphone sensors, synchronization with home medical devices, and integration with EMR systems at partner clinics & healthcare facilities.
Along with data collection, our AI-based algorithms continuously analyze input data to output customized feedback to patients advising them to do corrective actions to avoid ML-predicted health hazards. We communicate this feedback with patients in an interactive way using chatbot technology. We also offer smart communication channels between patients on one side, and their doctors and loved ones from the other side.
What's the latest progress in the project, and what are you focusing on right now?
Till now as pre-seed funding. Also, we have joined the EBRD star venture program in order to get qualified for the seed round.
We graduated from Falak Startups accelerator and became a top winner in Hult Prize Egypt Ideathon, along with Mazboot got second place in the start-up track competition in Mobile App Launchpad which was organized by the MCIT and Google. Moreover, Mazboot was selected as the best social startup in Egypt in the Ma'an Arab University Alliances Competition from AUC and finally selected from IOM as one of the best startups outside Cairo in Egypt. Additionally, we have won challenges from pharmaceutical companies like MSD in Switzerland and Sanofi in France.
What pain of your customers are you helping solve? What is your company offering, and what kind of customers and partners are you looking for?
Diabetes is a chronic health condition that requires patients to be educated, empowered, and motivated to self-manage their disease in order not to get severe health complications. The Market gap is that current healthcare systems in Egypt and Arab countries don't provide proper services for diabetic patients in terms of patient education services, specialized insurance models nor smart interaction with healthcare providers.
Diabetes requires a management plan that's so complicated including not only medications but a whole lifestyle change. This makes patients not motivated nor empowered enough to follow the plan, as a result, they develop severe health complications. On the other side, doctors don't have enough time to educate the patient on how to control their glucose measurements and this decreases patient retention at the doctor's clinic.
What differentiates Mazboot from its competitors?
Mazboot has three main competitive advantages:
1 – Mazboot is a bilingual app by Arabic culture.
Mazboot supports the Arabic language and takes into account the habits of the Arab diabetics towards diabetes, such as dealing with diet and glucose measurements and other important things for the patient, despite there are many Arabic language apps, almost all of them just show static informational content with no interactivity or personalization for users.
2 – Mazboot is an interactive app that coaches patients in their daily life.
Among foreign language apps that coach people with diabetes in different specific areas of diabetes management, Mazboot comes with an interactive comprehensive solution for diabetes management with localized experience for Arab countries.
3 – Mazboot offers a comprehensive diabetes management solution that involves doctors.
Mazboot provides doctors with a smart system to follow up with their patients. Mazboot also involves caregivers in the app to motivate patients and take care of them, which makes Mazboot an all-embracing technology solution for people with diabetes.
Do you use AI technology in your product? How does it work for you?
Our AI-based algorithms continuously analyze input data to output customized feedback to patients advising them to do corrective actions to avoid ML-predicted health hazards. We share this feedback with users in an interactive way applying chatbot technology. We also offer smart communication channels between patients on one side, and their doctors and loved ones from the other side.
What is your business model, and how are you planning to get early customers onboard? Have you already raised money for your operations and building the platform?
We provide our premium services to diabetic patients through Mazboot subscriptions (3-month, 6-month or annual) that include diabetes coach service, doctor consultations, and nutritionist consultation.
We also offer the diabetes population's health solutions for hospitals and clinics and most importantly insurance companies for which we provide an InsurTech model for diabetes.
Moreover, we provide sponsorship packages for pharmaceutical, glucometers companies, and any service suppliers for diabetics to sponsor customized challenges on the app or offer services on our marketplace which patients buy through our mobile wallet, and then we get a commission out of each transaction.
What milestones have you had in fundraising, and where are you now?
So far, we have raised funding of more than 120K USD.
What was it like growing your team? What were the challenges and surprises you encountered? What tips do you have for building a solid team?
Even if you do manage to pick the perfect crew to handle your business, and your hiring practices are superb, another piece of the puzzle can wreck the whole effort if it's not applied properly – your expectations. When there's a project to be handled, each team member needs to know precisely what their job entails, each milestone they should meet, as well as the final goal for the entire project.
If you don`t set up goals systematically, you risk overworking and underutilizing some of your most valued team assets. Those who end up working too much may compromise the quality of their work to meet a deadline, while those who are uncertain about their role won't be able to do their best. Prepare a detailed outline for each position in your company, so that every employee, present or future, knows precisely what their role assumes. Then make sure you apply the outline to each project so that you can match the job to the person with the right skillset.
What are your company's plans for the future, your major dream in 2022?
We plan for growth in two ways.
The first way is to expand geographically to open other important markets, such as Saudi Arabia and the UAE as these countries have a large number of diabetics in addition to the rate of spending on the disease, much higher than Egypt, along with the will to spend largely for a possible technological solution, and this is considered to be a national challenge to the health care system there.
The second way is to expand the product because Mazboot's vision is to provide solutions for chronic disease management in general possibly including obesity and hypertension and due to a great similarity of these diseases in the methods of control and treatment-related lifestyle modifications of the patient.
To summarize our interview, I would like to ask your opinion about the future of the HealthTech industry, especially considering the impact of the pandemic and all this economic turbulence.
The COVID-19 pandemic has posed various major obstacles in the healthcare industry. However, it has also presented numerous prospects for entrepreneurs and investors.
According to Global Market Insights, the digital health market in 2019 was valued at over $106 billion, and the sector is expected to expand at a 28.5% compound annual growth rate (CAGR) through 2026. The increasing number of COVID-19 cases around the world has boosted the proliferation of emerging health technology and will continue to do so.
Businesses in the sector are still looking for new ways to increase their performance, competitiveness, and quality, even though proven technologies are always chosen for their reliability. So, to understand how the HealthTech industry is going to evolve, let's take a look at some of the hottest technology trends in healthcare.